Gas genset power plants
Gas genset power plant is a packaged, compact, autonomous, and effective electrical and heat power generating facility. A gas genset power plant is run by an internal combustion gas engine and an alternator — a gas genset.
The engine is fueled by natural gas or any other combustible gas of an appropriate quality. The technology of a gas genset power plant operation allowing production of two resources – electrical power and heat – simultaneously is called cogeneration. The gas genset power plant allows also producing of an additional resource of cold. Such a technology is called trigeneration.
Gas genset power plant configuration
The heart of a gas genset power plant is an MWM gas engine connected on one shaft and mounted on the same frame with the alternator. The unit is provided with the auxiliary equipment required for normal operation. The latest scientific developments and knowledge accumulated for 150 years of successful operation of the company are applied while manufacturing of MWM gas genset units.

General view of gas genset units: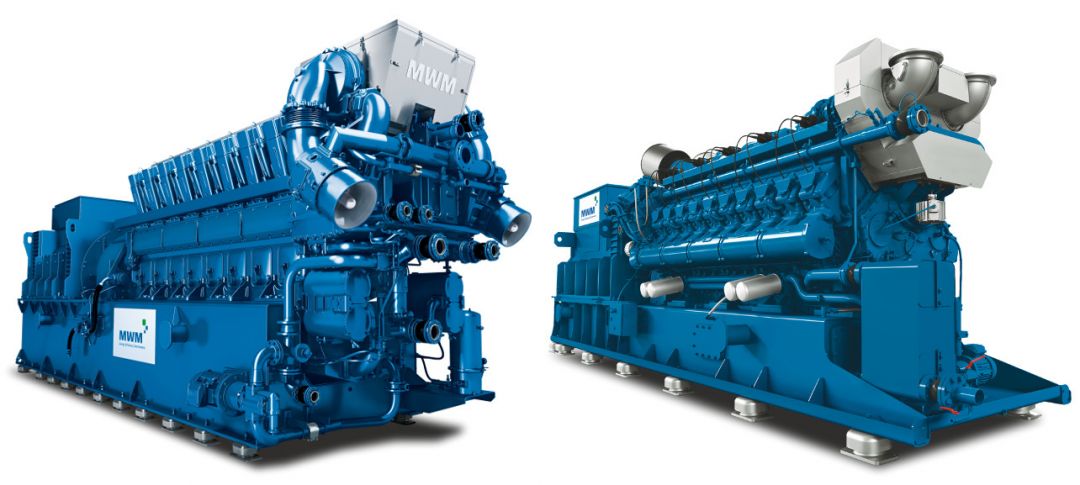 A packaged gas genset unit is installed inside a module, container of a building in accordance with the customer's requirements. In order to ensure the necessary operation conditions for a genset as well as the requirements of regulatory and technical documentation, the power plant is provided with the systems and auxiliary equipment needed.
Major engineering supply and safety systems:
fuel supply system;
smoke exhaust system;
oil supply system;
ventilation system;
thermal mechanics system (including heat recovery system);
electrical mechanics system;
automation system;
communication system;
security and fire alarm and fire extinguishing system;
etc.
Gas genset power plant operation principle
A combustible gas of the required qualities is supplied to the gas engine. While combusting the fuel, mechanical power is produced, transferred through the single shaft, and transformed into electric power of standard quality characteristics. The produced electric power is transmitted via the cable lines to the generator switchgear of the required voltage level (a generator cell) with subsequent distribution to the existing switchgear of the customer's power system.
During the operation of the unit, a large amount of heat is released (engine cooling jacket, exhaust flue gases, heated oil), which is recovered using heat exchangers and waste heat boilers (associated heat recovery system). The produced heat power is supplied to the existing heating system of the enterprise. When the associated heat from the power plant is not used, heat energy is discharged into the atmosphere.
Overview diagram of the technological process: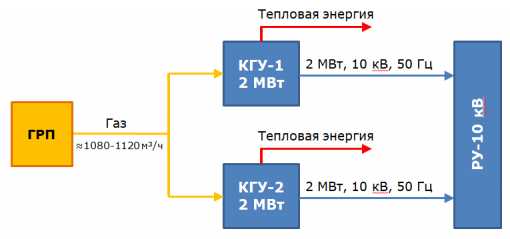 The connection points of the gas genset unit to the existing power supply system of the enterprise are specified at the stage of design work and depend on the existing scheme of electrical power, heat and gas supply of the enterprise.
Power plant operation mode
Depending on the consumer's working conditions, a gas genset power plant can operate in two modes relatively to the external power supply system:
Island mode. There is no external grid, or it will be disconnected; electrical power is supplied from the gas genset power plant.
Parallel mode. The power station operates parallel to the grid, electrical power is supplied from two sources. This is the most reliable and common operation mode. The power plant is synchronized with the benchmarkable metrics of the grid during the launch. However, this requires a strict control and prevention of the reverse flow of the produced electrical power into the grid, which is a compulsory requirement of the grid companies for a gas genset power plant connection.
Fuel
Gas genset units can be fueled by various types of combustible gas. The most common and efficient type of fuel is natural gas.
Other possible types of gaseous fuel are:
landfill gas;
biogas;
associated petroleum gas;
colliery gas;
sewage gas;
choke damp;
coke oven gas;
liquified gas (propane, LNG), etc.
When using alternative types of gaseous fuel, the preliminary gas analysis and its composition and parameters check for compliance with the requirements of the manufacturer is needed.
Heat recovery system
Heat recovery system allows to discharge the associate heat from the operating engine by means of heat exchangers and waste heat boilers.
The system ensures production of heat power of the required characteristics:
hot water; normal temperature chart of 90/70°С (hot water heat exchangers and waste heat boilers). If required, the characteristics can be increased with the help of pick load boilers.
saturated steam of standard parameters (waste heat steam boilers). If needed, a superheated steam can be produced with the help of steam superheaters.
General view of a waste heat boiler and a 3D visualization of a gas genset and the waste heat steam boiler layout: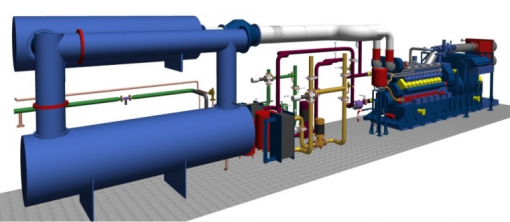 Gas genset power plants execution
Execution of a power plant shall be understood as its type and nature of its installation at the customer's enterprise site, as outdoor exposed installation of a gas genset is not expected. Depending on the customer's requirements and power plant installation conditions at the enterprise, there are two major execution options of gas genset units:
Modular execution. A gas genset and all the auxiliary equipment and systems are installed inside a prefabricated compact block-type building with a modular arrangement of the main equipment (gas genset) and auxiliary systems.
Stationary execution. A gas genset and all the auxiliary equipment and systems are installed inside a building.
Modular execution significantly reduces terms of commissioning the object and its cost and does not have tight size restrictions. A module can be disassembled, relocated, assembled, and commissioned within a few weeks.
Gas genset power plants execution types: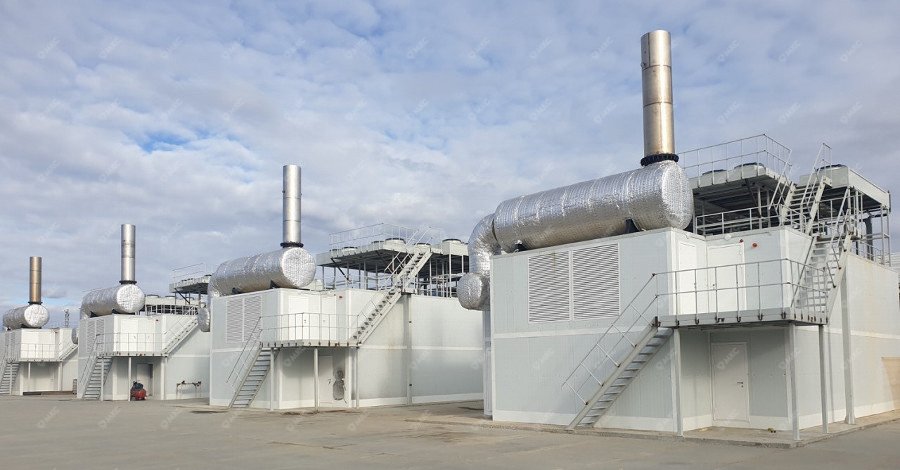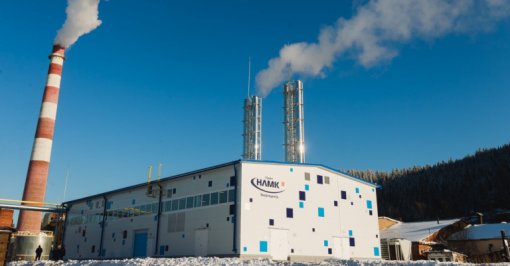 Advantages of modular gas genset power stations
Modular execution of gas genset power plants has a number of advantages if compared to the other execution options:
Versatility: it combines the advantages of both a container (easy assembling) and a building (sufficient space for servicing)
Easy launch: a 4

 

MW gas genset power plant can be assembled and commissioned within 15

 

days.
Cost effectiveness: block assembly and prearranged modules allow a significant reducing of the project cost.
- Mobility: a possibility of quick relocation of a gas genset power plant to a new installation site.
Easy capacity expansion: modular execution allows a quick increase of the power plant capacities by installing additional modules.
Easy maintenance: modular execution allows to quickly dismantle the engine for maintenance or perform maintenance onsite.
Easy transportation: the sizes of the modules manufactured allow their fast and relatively cheap transportation by any types of vehicles.
Gas genset power plants projects implementation
While implementing gas genset power plants projects, a special attention is paid to the quality and integrity of the services, thus such projects are generally implemented by engineering companies performing the whole scope of works from design to commissioning and maintenance of an object turnkey.
The diagram shows a generalized flowchart of a turnkey gas genset power plant construction by MKC Group of Companies, a leading Russian company focusing on commissioning of such objects based on gas genset units.

Each stage of this technological chain is particularly important, impossible without the others and requires the highest expertise level of the performers. Obviously if all the works are performed turnkey by one and the same company, then the total cost of such an object is lower than if each stage is performed by different contractors. Moreover, the single contractor controls the quality of works at every step, which cannot be said about several contractors where each is responsible only for his specific volume of works, and not for the project as a whole.
Design
Design and survey works is one of the most important stages of a gas genset power plant construction. This is the stage where the major technical solutions are worked out, the design documentation is developed and approved, visualization of the whole objects and its units is created.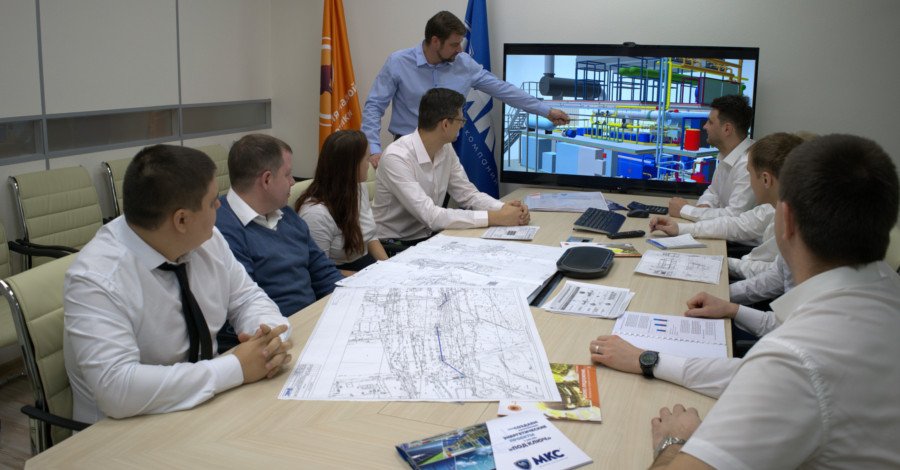 Equipment supply
A specification of a gas genset unit, the main generating equipment supply volume is approved in accordance with the customer's requirements and the project implementation conditions. MWM gas genset units have a variety of technical characteristics to cover almost any need for electrical power.
Manufacturing
After the main equipment is ordered, it is to be packaged, that means all the systems necessary for its operation are to be assembled inside a container or a module, all the required bearing and fencing structures (including the modules themselves) are to be produced, auxiliary equipment is to be manufactured. The equipment is to be supplied to the customer's site at its maximum operational readiness. MKC Group of Companies has its own production facilities which significantly reduces the project implementation time.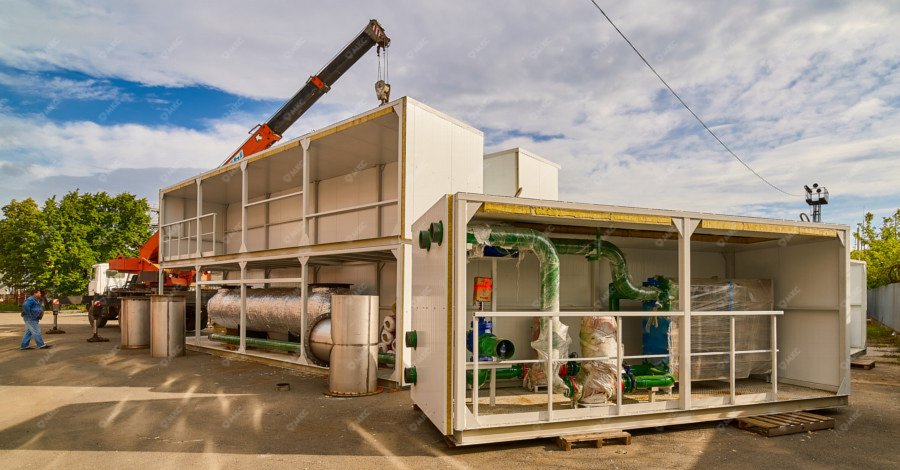 Construction and installation works
Performing of construction and installation works at the customer's site include following major types of work: earthworks, foundations, construction of buildings and structures, installation of technological equipment, installation of modules and containers, construction of linear and network facilities, construction of fences and access roads, landscaping, etc.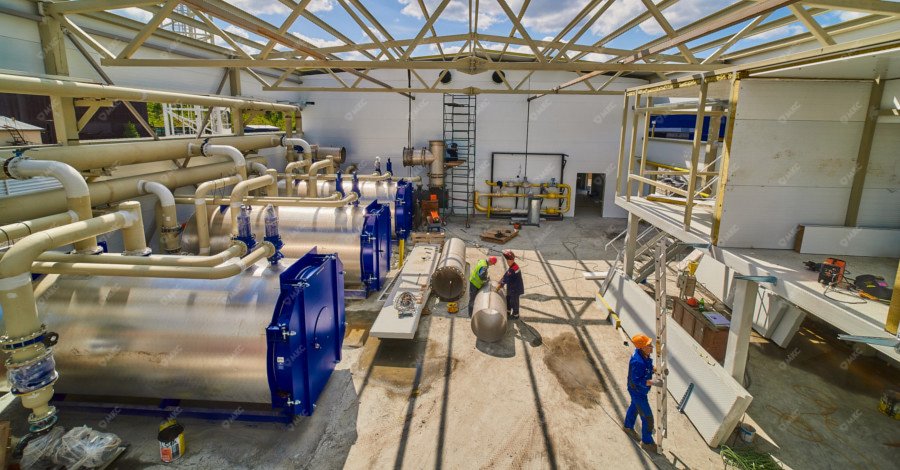 Commissioning
Adjusting is the final stage of the project implementation. At this stage, comprehensive testing, checking and launching of the equipment is performed, laboratory tests of auxiliary equipment are carried out under the supervision of engineering personnel of the gas genset unit manufacturing plant. The major task of commissioning is testing all operation modes of a gas genset unit at idle and under load, ensuring that the equipment reaches its rated operating parameters.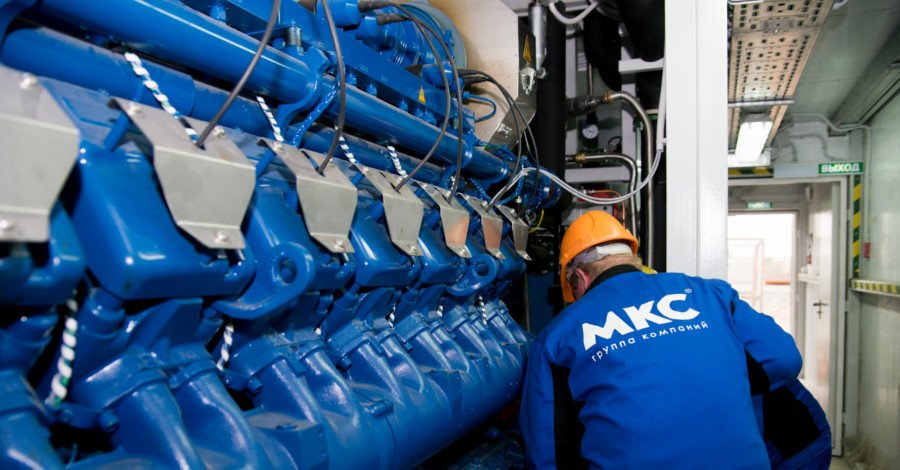 Dispatching and monitoring
At the request of the customer, the engineering organization can carry out real time remote dispatching and monitoring of the generating equipment operation from a single dispatching office. Such a service improves reliability of a gas genset power plant operation and allows to promptly react to any deviations in the equipment performance.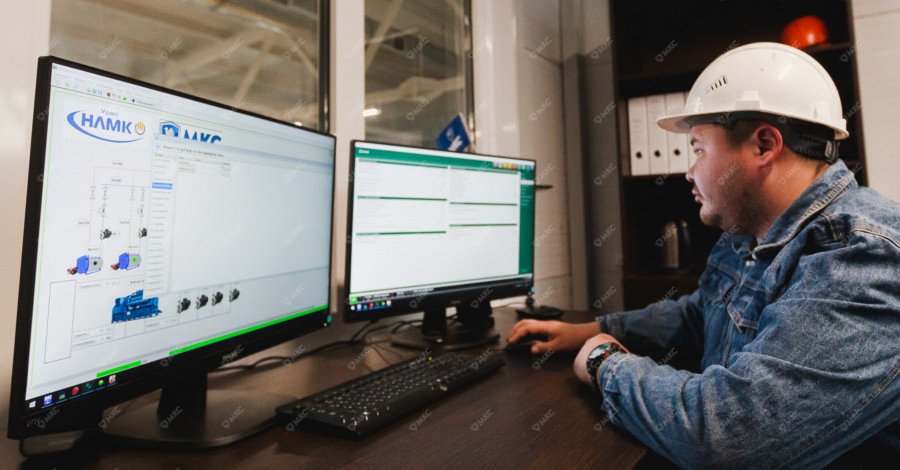 Servicing
A gas genset power plant operation is a complicated task requiring sufficient competencies and high technical level of employees from its owner. Therefore, in most cases the owners of gas genset power plants conclude long-term contracts for service maintenance and operation of generating equipment. An additional advantage is servicing by an official dealer or service partner of the manufacturer. This allows to get the best prices for spare parts, shorten their delivery time, and improve quality of the services provided.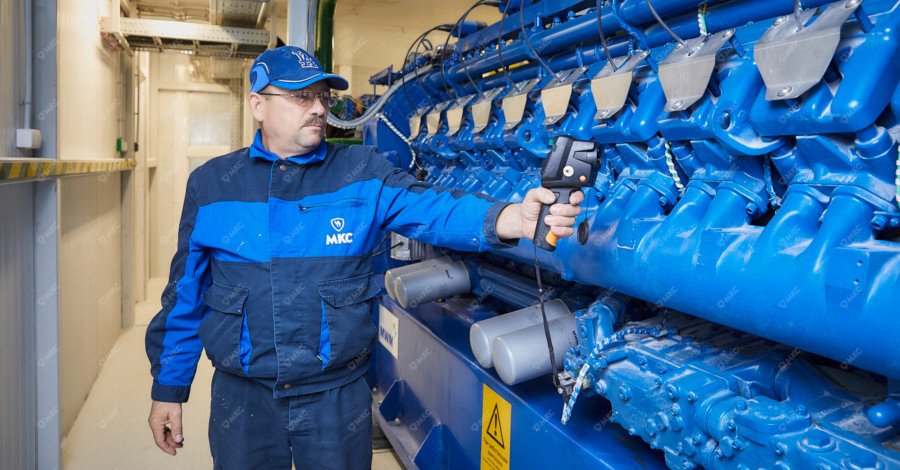 Advantages of gas genset power plants
The greatest benefits from the use of gas genset power plants can be obtained only with a range of services provided: supply of original generating equipment from the manufacturer and turnkey implementation of all works on the implementation of the facility.
The largest manufacturers of gas genset units in the world are MWM, Caterpillar, Jenbacher, Cummins, Man. MWM gas genset units have a number of advantages if compared with other generating units of gas gensets of other brands:
largest electrical efficiency among the units of the same class (up to 48%);
a possibility of getting relatively free of charges by-products (cogeneration and trigeneration);
low electrical power generation prime cost;
best units value;
wide range of units rated capacities;
long service intervals and longest operating time before overhaul among units of the same class;
small size, a possibility of modular execution;
ecological friendliness and safety corresponding to European standards;
optimal service maintenance and operation costs;
short payback period.
Gas genset power plants economics
One of the main criteria for construction a gas genset power plant is reducing the cost of energy supply. The cost advantage of operating a gas genset power plant is connected to locating a generating facility in close proximity to the consumer: power is supplied at the cost of electricity generated, which is in most cases much lower than the market purchase price.
The diagram shows an approximate structure of a unit cost and cost advantage of using a gas genset power plant for a consumer. As a result, the consumer can get electrical power at a price much lower than that of the default provider.
In this regard, gas genset power plants implementation projects now have quite an attractive for a consuming enterprise payback period of up 5 years. Moreover, implementation time of such projects generally fits in one calendar year. For comparison, technological connection of a new power-consuming production facility to external power grids can take up to several years, especially if construction of new lines and substations is required. Large-scale grids to which the new facility is to be connected are rather static and slow to change or build up their networks. Large consumers often have to pay a lot of money for such a connection in order to compensate costs to the grid companies. From this point of view, implementation of a gas genset power plant project is not only an affordable but also an apparently cost efficient and logical step.
Cost of gas genset power plants
Advantages of gas genset power plants for a consumer are obvious, but any business owner counts his money thoroughly, thus cost of such projects implementation is among the most important issues. According to the average estimates of engineering companies implementing of gas genset power plants projects, the approximate unit cost of turnkey construction of such a facility is about 600—650 Euros per 1 kW of installed capacity. These prices are competitive in terms of obtaining the above-mentioned advantages, and competent businessmen understand this. The diagram shows a preliminary generalized structure of expenses for a turnkey gas genset power plants project implementation.
Generalized structure of expenses for a turnkey object implementation: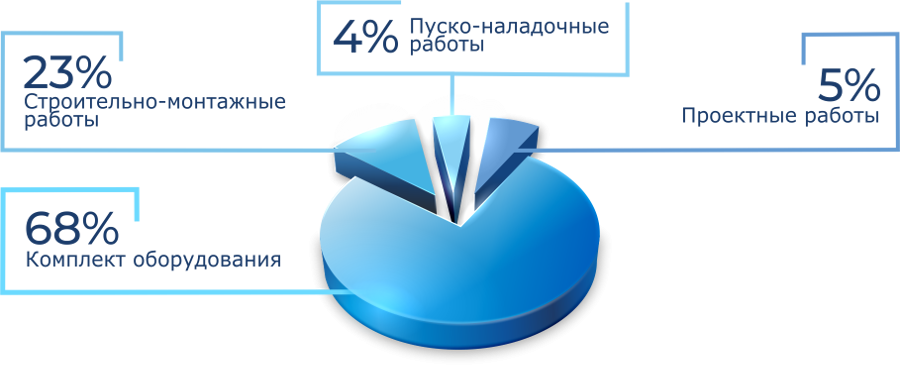 Safety and ecological friendliness
Pollutants dispersion
Main generating equipment of a gas genset power plant is a source of pollutants. An MWM unit fueled by natural gas throws less than 500mg/Nm3 of pollutants (NOx) to the atmosphere.
Level of pollutants dispersion is calculated based on specific actual conditions and the main regulatory requirement: the cut of the exhaust stack of a gas genset power plant is to be 3 m higher than the face wall of the nearest building.
Noise impact
The main noise producing equipment of a gas genset power plant is the internal combustion engine of the gas genset unit, fans of the ventilation systems and fans of the dry cooling towers. With a modular execution, the engine is located inside a module assembled from sandwich panels with noise-absorbing characteristics (according to the passport) of about 31—32 dBa. This allows to significantly reduce noise level of the internal combustion engine of the gas genset unit behind the module. Depending on the distance from the installation site of the gas genset powerplant to the nearest structure outside the customer's enterprise, a non-linear reduction of the noise level is achieved. The calculations of the noise level and sound pressure are made in accordance with GOST 31295.2-2005 / ISO 9613-2: 1996. Additionally (if required), other means of protection against the physical impact of a gas genset power plant can be applied.
MKC Group of Companies is an official dealer and service partner of German company MWM (Caterpillar Energy Solutions GmbH) and focuses on turnkey commissioning of gas genset power stations, performs dispatching and servicing of the commissioned objects. Which is more, MKC Group of Companies can offer various financing options for gas genset power plant projects implementation.
© MKC Group of Companies, 2019