Cyclon gas purification plants
Cyclon gas purification plants MKC Group of Companies has launched the production of Cyclone gas purification units in 2023. Innovative equipment will ensure gas pollutant extraction that enters the genset as efficiently and economically as possible, thereby increasing the service life of power plants.  The fabrication of innovative products is deployed at MKC manufacturing area in Chelyabinsk. There can be produced Cyclone version with standard parameters, as well as customized version according to Customer's requirements.
Purpose
Boast of many years of experience in operating gas generator set of various capacities in different areas of Russia, the engineers of MKC Group of Companies faced the problem of genset unexpected repairs due to damages associated with LNG contamination.  These malfunctions are associated with the presence of solid debris particles in fuel natural gas.
This is why MKC engineers have created and implemented innovative solution - gas cyclone which consists of two parts: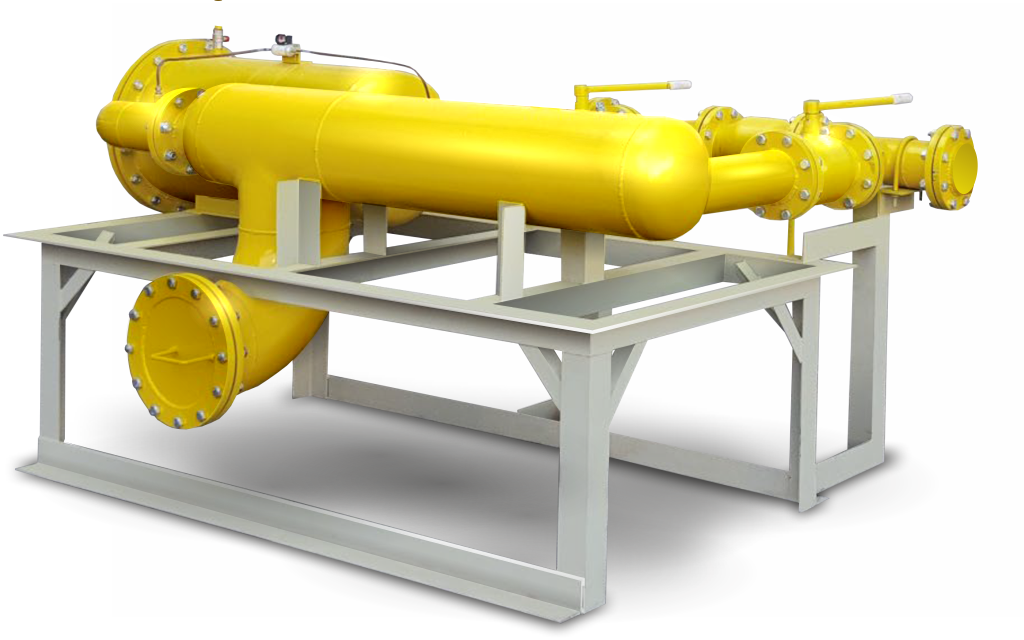 a mechanical primary filter capturing particles of

over 250 microns

fine filter capturing particles

over 5 microns
Nowadays, standard filters installed in gas systems usually ensure the capture of particles over 50 microns, which does not provide the necessary protection of the genset engine from the effects of mechanical particles coming with fuel gas.
The Cyclone gas purification plant by MKC Group of Companies is completely ready for production and can be installed on gas pipelines upstream of a genset and ensures maximum power plant protection from pollution.
The Cyclone gas purification units by MKC have already proven their high efficiency: the devices were introduced at many of the company's facilities. According to statistics, the number of failures connected with gas contamination has decreased by 40% during genset operation. And this has become a key factor in increasing the service life of gas gen set.
---
Layout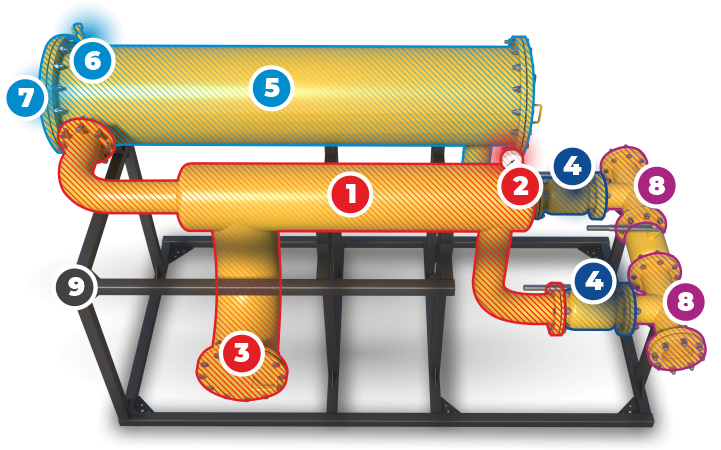 Cyclone with tangential medium admission for cleaning of large particles and removal of large particles into a separate compartment

Removable flange plug DN300

½" orifices for connecting the differential pressure sensor (supplied separately) are designed to monitor the differential pressure at the inlet-outlet of the device.
Cyclone filter is equipped with isolation valves - DN150 ball gas valves, which allow switching on the gas supply line to clean the cyclone and replace filter elements without previous stopping the supply of natural gas.

A fine gas filter consisting of a DN500 housing assembly with a set of filter elements (3 pcs.) of the DIFA 4350M type with an average dust transmission coefficient of no more than 0.2% of the total dust volume in the medium.

 The cold vent pit is designed to relieve gas while maintaining the device.

Plug DN 500

Ball valve DN 150

Baseframe
Precise dimensions of the device 
Technical specifications and parameters
| Name of the separator parts  | Transverse frame |
| --- | --- |
| Working pressure, MPa | 1,23 |
| Rated pressure, MPa | 1,6 |
| Production test pressure, hydraulic/pneumatic, MPa | -/0,6 |
| Medium operating temperature, C° | -40 - +50 |
| Rated wall temperature, C° | -40 - +50 |
| Lowest vessel wall temperature at design pressure, C ° | Minus 60 |
| Medium | Natural gas |
| Medium characteristics | |
| Explosive risk | yes |
| Fire hazard | yes |
| Corrosion allowance, mm | 2 |
| Volume capacity of the separator housing, m3 | 0,19 |
| Volume capacity of the filter housing, m3 | 0,59 |
| Cyclone filter with a base frame empty weight, kg | 1250 |
| Designed life cycle, years | 25 |
| Vessel group according to Table 1 GOST R 52630-2012 | 4 |
| Medium group according to TR CU 032/2013 | 1 |

At Cyclone unit development, MKC engineers used native certified materials.  The devices meet high industry standards and are notable for technological novelty.

Questionnaire. The company experts will answer your questions on the subjects you are interested in, calculate the cost of services, and prepare a technical and commercialproposal in accordance with the data provided in the filled out form.
QUESTIONNAIRE