One of the promising areas of the MKC Group of Companies' activities is the construction of desalination units. These facilities perform an important role - desalination of seawater for its further use. MKC experts use an innovative technology of double-block vacuum distillation with mechanical steam compression in their projects. Desalination units manufactured by MKC Group of Companies allow obtaining water with high purity indicators approved by the international regulatory documents.
WORLD-
CHANGING
TECHNOLOGIES
---
Applied technology
MKC Group of companies uses the technology of double-block vacuum distillation with mechanical steam compression, without external heat supply. Today, it is an innovative, unique development that has significant advantages in terms of energy efficiency and productivity in comparison with analogues. The key advantages of the technology are as follows: low specific energy consumption; low cost of the distillate produced; no external steam supply; the possibility of obtaining environmentally friendly fresh water; the possibility of regulating the processes depending on operation conditions.
Desalination plant schematic diagram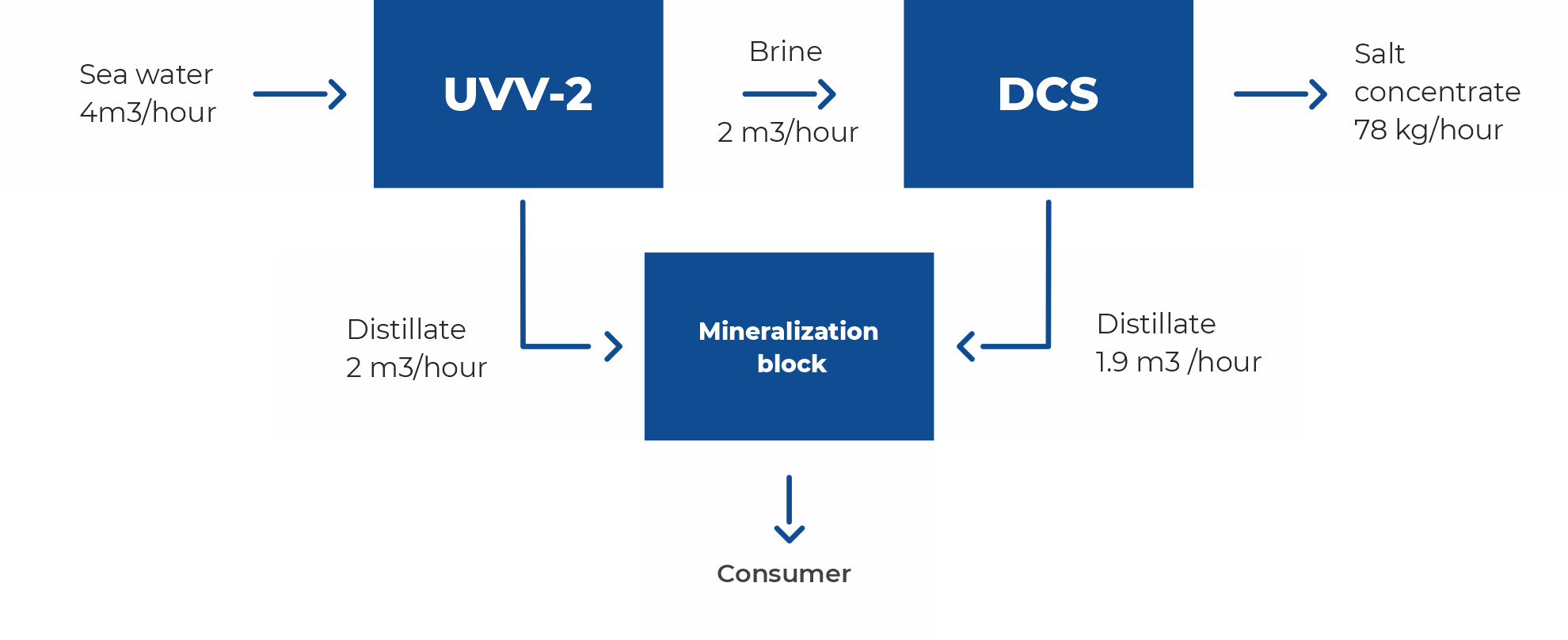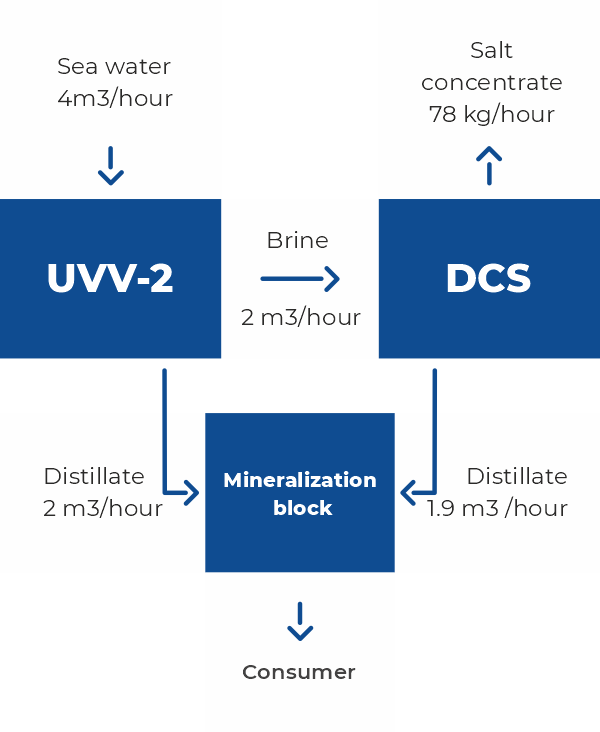 MKC desalination plant consists of two blocks:
Block 1 is the UVV-2 energy-efficient vacuum desalination unit. It produces 2 m3 of distillate and 2 m3 of brine, which go to the second block of the desalination plant, out of 4 m3 of seawater per hour.
Block 2 is the DCS 2000 vacuum evaporation unit. It produces 1.9 m3 of distillate and 78 kg of salt concentrate with a humidity of 30-40% from 2 m3 of brine per hour. The produced distillate is sent to the mineralization block to bring the water to drinking quality according to the customer's requirements. Then, the finished drinking water is sent to the consumer.
Brief description of the UVV-2 block of the desalination Unit
Pre-filtered seawater heated in heat exchangers is supplied to the evaporator input. The vacuuming block creates a discharge in the stages, the water evaporates. In each subsequent stage, the steam condenses, giving off its heat to form the secondary steam, which goes to the next stage, producing distilled water. The non–evaporated seawater (the concentrated brine) is sent to the second block of the desalination plant – to the DCS.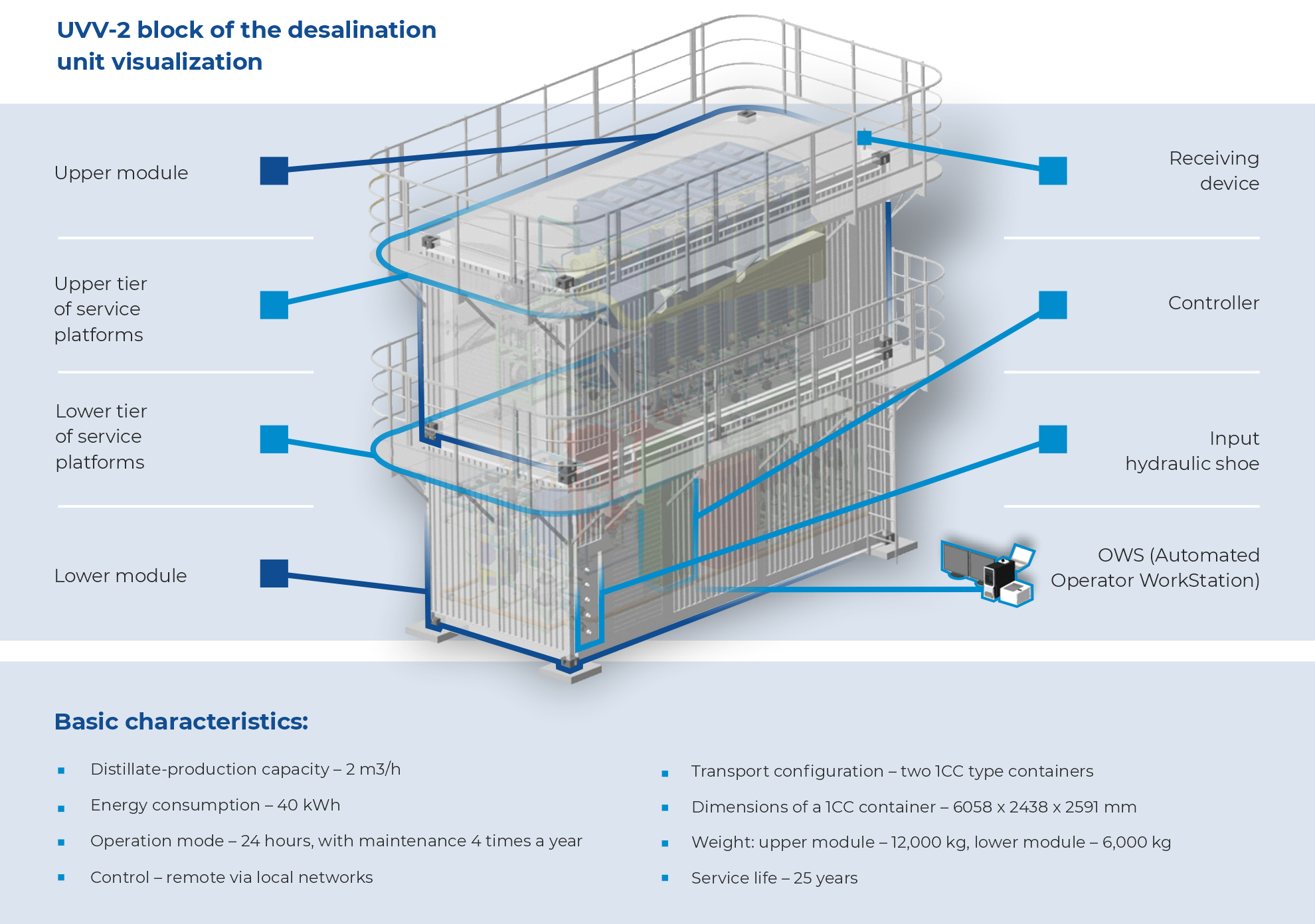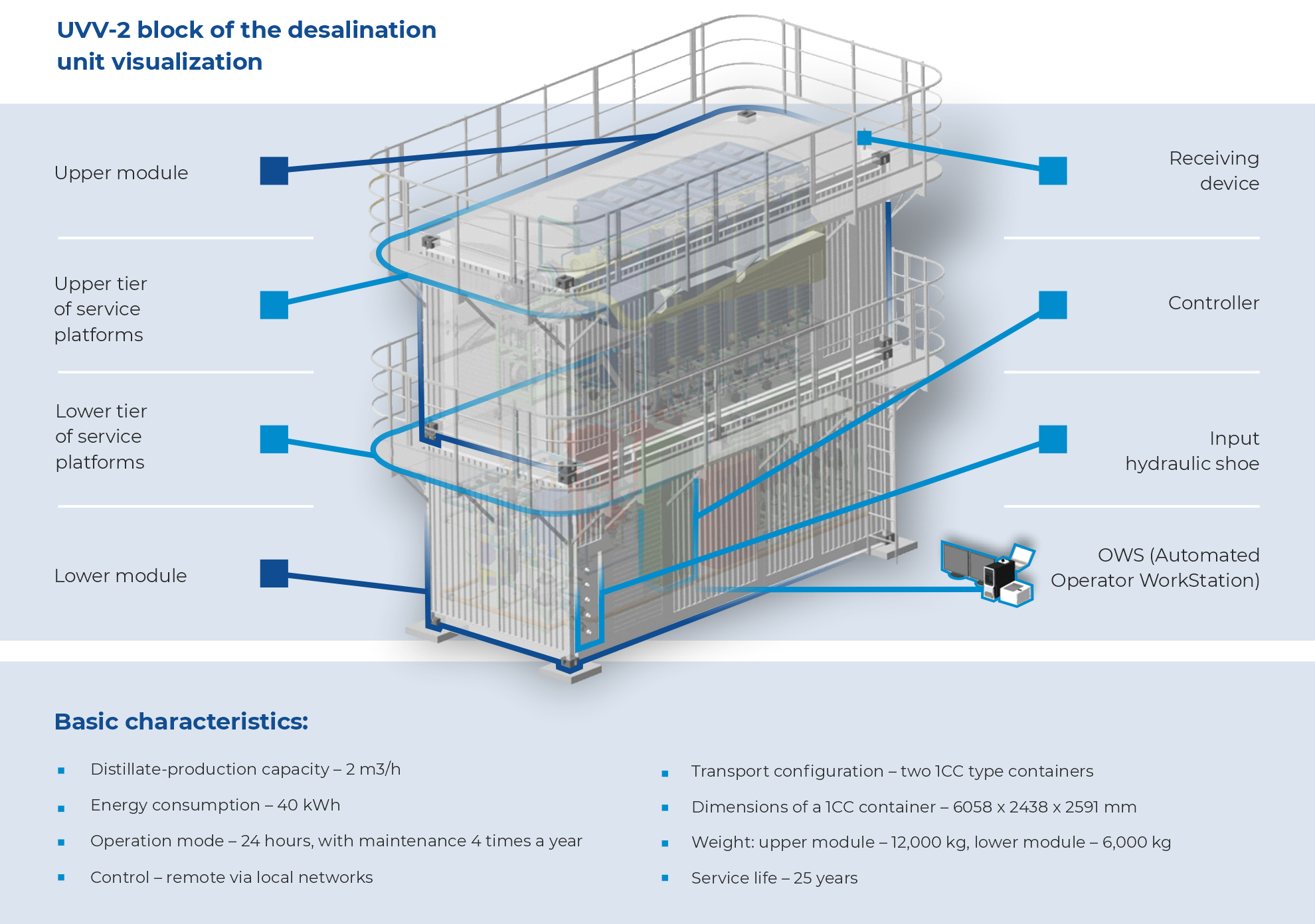 ---
Brief description of the DCS 2000 desalination unit
At the first stage, water evaporation to 70% wet concentrate takes place. At the second stage, the salt solution can be concentrated to a humidity of 30-40%. The vacuum use in the unit makes it possible to achieve a liquid boiling process at a temperature significantly lower than under the normal atmospheric pressure.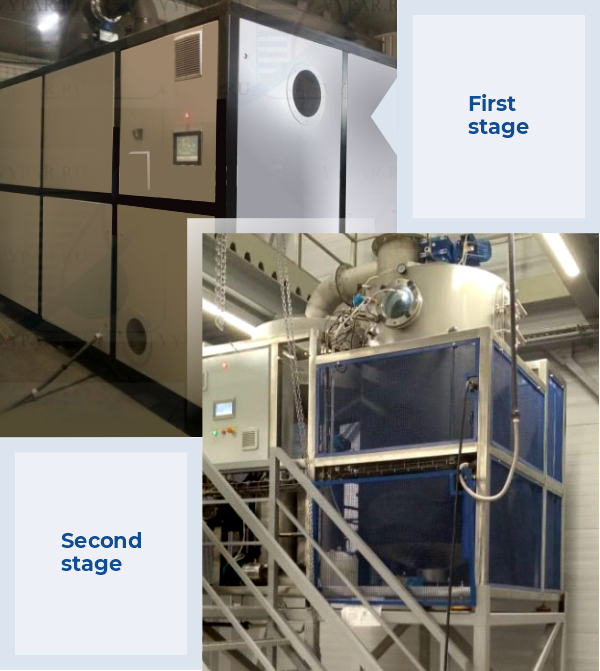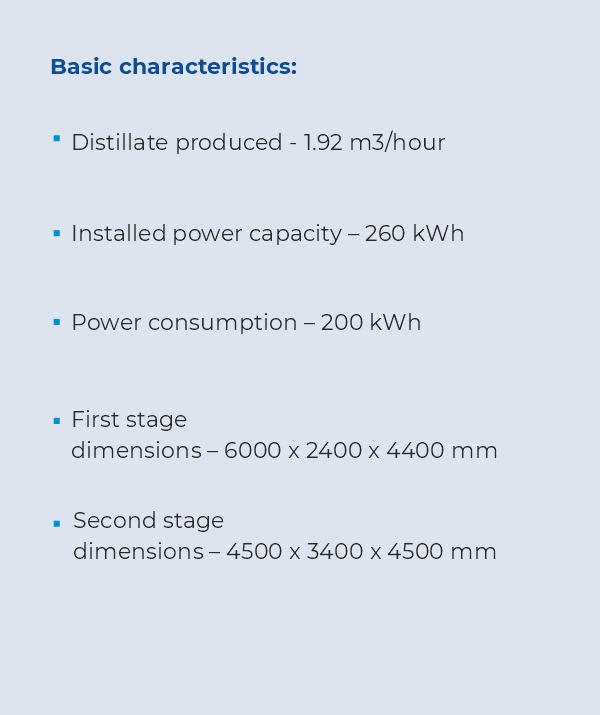 ---
Features of the desalination plants control and maintenance
MKC desalination plant is fully automated and can have either a continuous or an intermittent duty cycle. During the vacuum evaporation unit operation, it is possible, if necessary, to observe the boiling phase through an illuminated porthole.  If necessary, an operator can monitor the heat pump performance and the vacuum level at any point of time.
The main advantages of MKC desalination plant
The desalination process is monitored from a single control panel by an operator, who can control the unit remotely, even from another region
High quality of the purified water. 99.9% of water impurities are being removed
Only one connection to the power supply line and two water connections (input of the source water and output of the finished distilled water) are required to prepare the equipment for operation
It is environmentally friendly, the salt is not dumped back into the water body