Solutions for Greenhouse Facilities
A promising activity of MKC Group of Companies is the implementation of turnkey power generation projects for greenhouse facilities. Modular mini CHP-plants constructed by the specialists of our company allow both to reduce expenses of agricultural facilities for heat and electrical power supply significantly, and to improve crop yield due to useful application of carbon dioxide СО2, a large amount of which is contained in exhaust gases.
Power facilities by MKC Group of Companies based on gas genset units and intended for cogeneration mode operation meet all the industry requirements, are highly automated and can be easily and efficiently integrated into heat and electric power supply system of various greenhouse enterprises.
Power consumption of 1 hectare of greenhouse is averagely amounts to 1 MW of electric power and 2 MW of heat. A significant reduction in the production cost can be achieved only by reducing the power component. The best solution for power supply to greenhouses is autonomous generation (mini CHP-plants).
Diagram of power supply to an agricultural facility by means of gas genset mini CHP-plant: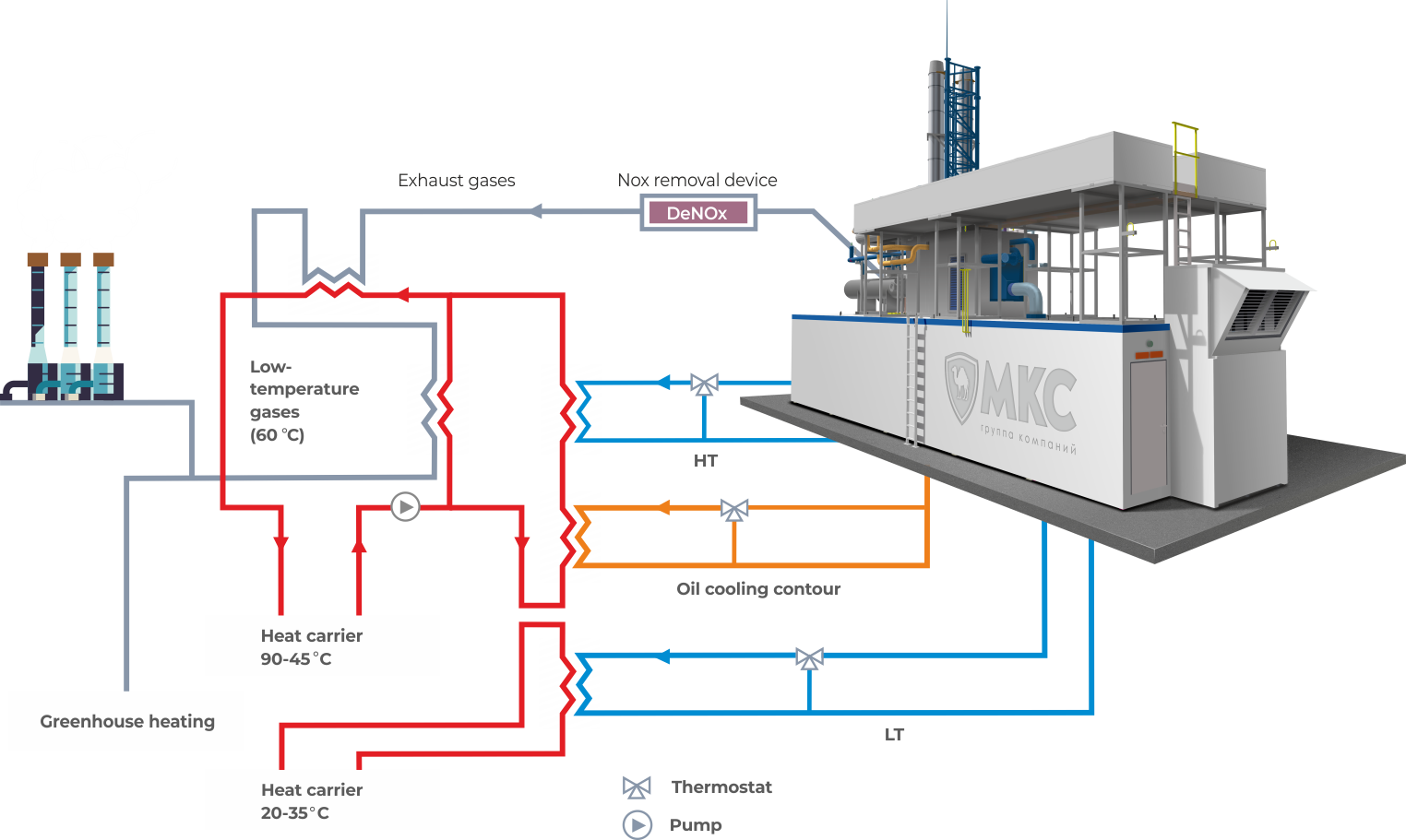 Gas genset units based power generating facilities by MKC Group of Companies designed for cogeneration mode operation are the most efficient solution for ensuring autonomous power supply of greenhouse facilities. Mini CHP-plants. Mini CHP-plants provide fuel utilization rate of 95–97%. Besides electric and heat power, the Consumer also gets a source of carbon fertilizer required for the process of photosynthesis. Electric power is consumed for covering own needs and artificial lighting of the greenhouse facility. Through the heat recovery system, the agricultural complex is supplied with thermal power.
Mini CHP-Plant Technological Flow:
Cogeneration unit produces electric power, the heat of the exhaust gases is transferred in the heat exchange equipment. At the same time combustion products are released. Exhaust gases are treated and purified from nitrogen oxides and then are cooled down to +50°С in the heat exchanger. Further purified and cooled gases a supplied to the greenhouse through pipelines, mixed up with the air and delivered directly to plants. For active plant growth, the greenhouse atmosphere must contain from 700 to 800 volume fractions of CO2. For one hour, a mini CHP-plant of 1 MW capacity produces 372 m3 of carbon dioxide. As a result, the crop yield of a greenhouse facility increases by 30–40%.
Advantages of Own Mini-CHP Plants Generation for Greenhouse Facilities:
Improvement of reliability and quality of electric and heat power supply.
Significant improvement of greenhouse facilities capacities.
Crop yield increase of the greenhouse facilities by 30–40%.
Significant cost savings on power component.
Availability of an additional source of fertilizers (application of carbon dioxide as a fertilizer for plants).
Reducing of harmful exhausts.
Would you like to order a power plant for a greenhouse complex?